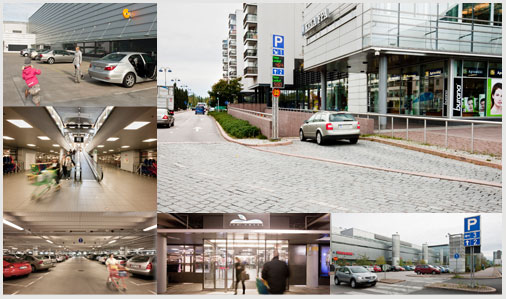 Iso Omena Parking
Iso Omena uses Aimo Parks beamless parking that relies on automatic recognition of license plates. Parking time will automatically start by driving into the parking facilities and stop by driving out of the parking facilities.
Parking at Iso Omena is free for the first two hours, after which the cost is 1,5 € per starting hour. Parking can be paid with the following methods. First, you can download and register to Taskuparkki App. Second, you may pay parking using the payment terminals located near the entrances/exits of Iso Omena. Third, you will receive a bill at home. Please note that payment using a bill will also include an additional fee, 5 € / bill.
Maximum heights for cars are as follow: P1A 2.4m, P1B 2.3, and P-talo 2.0m.
HSL Park & Ride
Iso Omena HSL Park & Ride parking services are located at P3A. Entering the parking facilities occurs from Piispansilta or Suomenlahden tie and you may reach the HSL Park & Ride parking area by following the P+Metro guidance signs. Price for parking in the area is 2€/10h. After 10 hours normal parking prices are used.
To use HSL Park & Ride services you must use your HSL travel card to verify correct payment.
To start parking, use your HSL travel card next to the payment terminal near the HSL travel card reader and then enter your license plate. If you have parked for over 10 hours, please use the payment terminal again to pay for the parking time over 10 hours.
Entering the metro occurs from the bus terminal.
If you are using the Taskuparkki app, please remember to turn off the camera recognition. Otherwise you will be charged according to standard parking fares.
Car Park Opening Hours
Monday – Saturday 04:30 – 00:30
Sunday 05:30 – 00:30